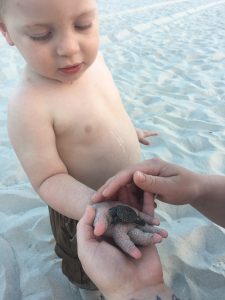 Nature Walk
 STEM Concepts: Science (life science, earth science), Technology (simple tools), Math (patterns and classification)
Materials: Appropriate attire for outside exploration (rain boots for puddle jumping not necessary but encouraged). Plastic bags, magnifying glasses, plastic trays. Expansion – plain paper, crayons and glue.
What to do: Go on a nature walk anywhere that has trees, bushes, flowers, grass, etc. – this could even be your back yard. Take a large plastic storage bag and a magnifying glass. If you see bugs or insects, stop to investigate what you see. (Please don't disturb the creature in their environment. Unless you are certain they cannot cause danger, handling animals in the wild is not recommended.) Use the magnifying glass for closer examination. Collect flowers, leaves, sticks and place them in the storage bag.
After returning home, dump the contents of the bag onto the plastic trays and explore things closer with the magnifying glass. Make categories so that your child can sort the items they found. For example, pointy leaves, round leaves, green leaves, red leaves, acorns, rocks, etc. (Please observe and monitor your child for safety purposes, as things in nature can be dangerous or become a choking hazard if swallowed.)
Language and Communication: As you explore nature, talk with your child about the different things you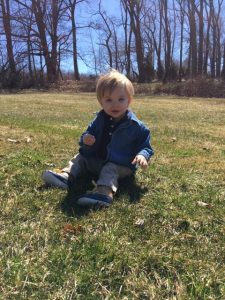 see. Point out the different colors and shapes. Count how many bushes or bugs you find. This will encourage your toddler to learn their numbers and one-to-one counting. Point out patterns in nature (this could be a red flower, followed by a  pink flower, next red, and finally another pink flower.) Continue these conversations as you explore your tray at home. When observing bugs, insects or animals, point out their features and the things they are doing. Do they fly? Where do they live? What do they eat?
Expand the Activity: Use plain paper and crayons to make leaf impressions. Place the leaf under the paper and rub the crayon over the paper. The leaf will leave its imprint.
Have your child line up their items in a pattern and glue them to the paper.
Tell your child to place the items to make a person. Ask them to use one leaf for a head, two sticks for arms, two petals for hands, etc.
 Cloud Dough
STEM Concepts: Science (physical science), Math (shapes and spatial recognition), Engineering (engineering), Technology (simple tools)
Materials: A large bowl, 4 cups of flour, 1 cup coconut oil, clean sand toys, shovels, a baking pan or sheet, small construction trucks.
What to do: Mix the flour and oil and place into a baking pan or on a baking sheet. Add the sand toys and let them play. This mixture is safe if ingested and allows them to explore with texture play.
Language and Communication: Encourage your child to feel the mixture and place the cloud dough into their containers. Tell them to build and point out the different shapes. Count the amount of structures they build. Talk with your child about how adults use construction trucks and tools to build things or to care for our beaches by the ocean. This introduces technology and how it helps humans construct and care for our environment.
Expand the Activity: Add shells, rocks, gems or different textures. This encourages play with various textures and enhances the building development.
Balance- Act
STEM Concepts: Science (physical science, life science), Math (patterns)
Materials: Pool noodles, painter's tape, and scissors.
What to do: Cut the pool noodle in half. Have your child balance it in their hands. Show them how to do this horizontally and vertically. This teaches the concept of balance. Have your child walk around trying to balance these on their hands. Cut pool noodles in half – length wise. Lay them flat on their cut side on the floor in a path. Tell your toddler to try and balance on the noodle. Have them walk on the path. While they are walking the path, count with them how many steps they can take.
Language and Communication: Point out the different things your child does to help balance themselves. If they put out their arms, tell them they're doing this because they are balancing themselves to not fall down. Talk about this to reinforce body awareness.
Expand the Activity: Use the painter's tape to add zig-zags to your floor or make shapes that may be difficult with noodles. This also adds a small step down and up to your child's course.
You can also add spots so that your toddler is encouraged to jump.
Add a pattern in your path and talk about the pattern with your child to add more math development into their activity.