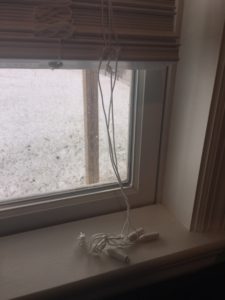 Window blinds are very common in homes around the country.  Window blind injuries have been recorded in medical literature as early as 1945 and they continue to occur today. There are an average of 647 injuries annually from window cords, some resulting in strangulation and death.
The dangers associated with window blinds are evident as babies become more mobile. We gate the staircases, lock cupboards, and have 5 point harnesses on highchairs but are we forgetting about the dangers of window blinds?
What to do:
Eliminate window blinds with cords in the home (especially in child's room).
Switch to cordless blinds.
Clip blind cords high up on the blind away from where the child can reach.
References:
Onders, B. Kim, E., Chounthirath, T., Hodges, N, & Smith, G. ( 2017). Pediatric Injuries related to window blinds, shades and cords. Retrieved from http://pediatrics.aappublications.org/content/early/2017/12/07/peds.2017-2359
https://www.cbsnews.com/news/ban-window-blinds-with-cords-to-prevent-kids-deaths-injuries-study/